Louvre Roof Whakatane
Summer is around the corner and as the days grow longer and the temperatures rise, there's an undeniable sense of renewal in the air. Summer brings not only warmth and sunshine but the perfect opportunity to enhance your home and create an inviting outdoor space. At HomePlus, we understand the importance of making the most of these seasons, and we're here to help you embark on a journey of home improvement that combines functionality with style.
From insect screens that keep pesky bugs at bay to louvre roofs and awnings that create inviting outdoor retreats, HomePlus has you covered. Embrace the season with confidence, knowing that your home is equipped to make the most of the warmth and sunshine that spring and summer have to offer.
Insect Screens: Enjoy the Outdoors Without Unwanted Guests
One of the joys of spring and summer is spending time outdoors, whether it's on your porch, patio, or in the garden. However, pesky insects can quickly put a damper on your outdoor experience. Enter HomePlus's range of high-quality insect screens. These screens are not just a barrier against bugs; they also promote fresh air to flow freely into your home. Choose from a variety of styles from traditional sliding or hinged screens to easy-operating magnetic and stylish fully retractable screens to seamlessly integrate with your existing doors and windows. If security is a priority our popular Amplimesh Security Screen comes with a built-in Insect Screen as standard also!
Louvre Roofs: Create the Perfect Outdoor Room
Imagine a space where you can bask in the sunshine or enjoy the cool breeze at your leisure. HomePlus offers Louvre Roofs that allow you to control the amount of sunlight and ventilation in your outdoor space. With a Pivoting and a Pivoting/Retracting and Folding roof option available these adjustable roofs are not only functional, but they will also add a touch of sophistication to your home. Whether you're hosting a summer barbecue or simply relaxing with a good book, a Louvre Roof creates the ideal setting for any occasion.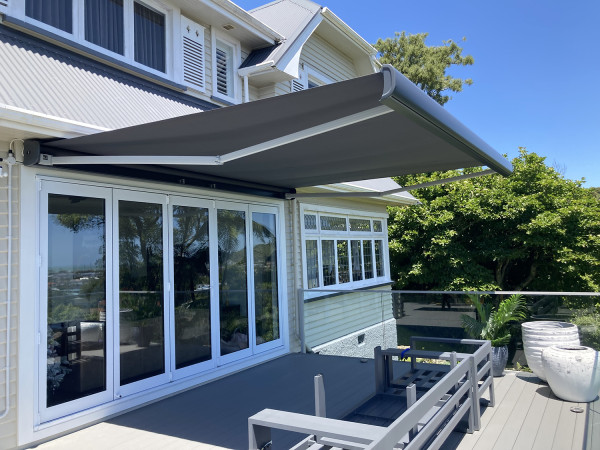 Soleia Awning
Awnings: Shade and Style Hand in Hand
As the sun's rays become more intense, having a shaded area in your outdoor space is paramount. The HomePlus range of awnings will provide the perfect solution. These versatile structures not only offer much-needed shade but also contribute to the aesthetic appeal of your home. Choose from a variety of designs, colours, and materials to complement your existing décor and create a stylish retreat right in your backyard.
As Summer unfolds, seize the opportunity to transform your home into a haven of comfort and style. HomePlus can be your trusted partner in this journey, offering a diverse range of products that enhance both the functionality and aesthetics of your living space. Embrace the season with confidence, knowing that your home is equipped to make the most of the warmth and sunshine that Summer has to offer.
TIP – Ideally think about ordering insect screens well in advance of Summer (when you will need them most) to ensure that you have the benefits of them for the entire season.