At HomePlus, we understand the importance of providing data and expert support to assist our customers with their projects. We offer a range of comprehensive resources and technical assistance to facilitate information is received timely and reliably. Our commitment to quality and safety is evident in every product we offer, meticulously engineered to meet and even exceed New Zealand building code requirements.
HomePlus provides our customers with timely and comprehensive technical information and understands that the successful installation of our specified products requires skilled professionals. HomePlus with its established nationwide network of licensed fabricators and installers ensure these trusted partners possess the necessary expertise and experience to ensure that our products are installed correctly and in compliance with industry standards, giving our clients peace of mind during the construction process.
Everyone recognises the importance of documentation in the construction industry, particularly when it comes to compliance with local regulations. To streamline this process, HomePlus has developed an online self-service Producer Statement (PS1) system. This convenient tool allows the instant generation of generic producer statements that contain address-specific information for your local council. By automating this process, we save time and effort for all involved.
For seamless integration into architectural designs, HomePlus provides a comprehensive range of online CAD files and Technical Details, for all of our products. These files ensure accurate representation and facilitate the design and specification process. If specific details are required that are not available in the manuals, our technical team will always try to assist in finding the necessary information to ensure smooth project progress.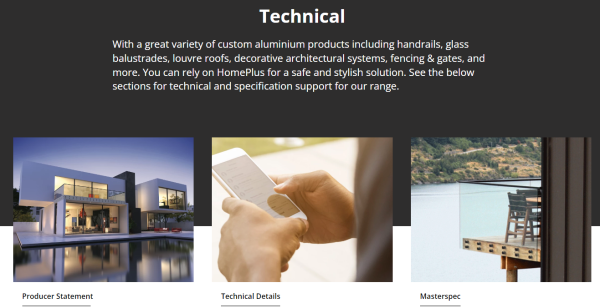 HomePlus is committed to supporting Homeowners architects, specifiers, and builders with a comprehensive range of resources and technical assistance. From timely technical information and rigorous product testing to licensed fabricators and a streamlined producer statement system, we aim to make the construction process smoother and more efficient. Our dedicated team of technical specialists is readily available to assist with any questions, product selection, specification requests, or technical assistance required. Reach out to us at [email protected] to receive prompt and personalised support throughout your project journey.